New Autoformers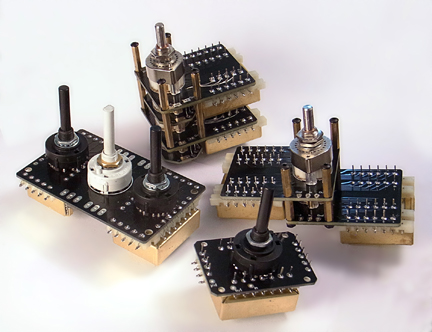 Introducing a family of turn-key autoformers that wire into circuit with simple In, Out and Ground connections. For general info on autoformers please see the FAQ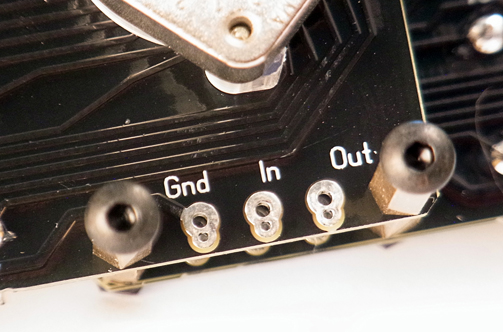 Elma 47 Position Autoformers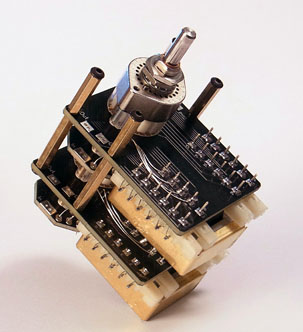 Clamor for a higher quality switch version of the autoformers lead me to designing a custom circuit board with hard gold plated contacts that integrates to an elma switch mounted directly on the board. The top of the line unit is a 47 position stereo attenuator that goes seamlessly from +5dB to -51.25dB in 47 1.25dB steps. This stereo unit can also be wired as a mono balanced unit. For the ultimate, a version in all silver is available. (Dimensions 2.9" wide by 2.25" tall and 3.3" deep with the knob being offset and 0.6" from the edge). Units are available wound in copper and 0.9999 pure silver.
Blore Edwards 23 Position Autoformers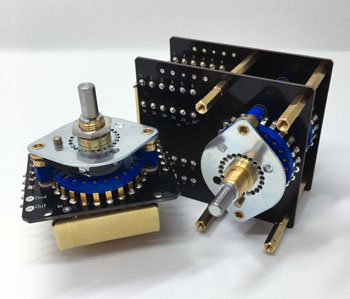 Filling in the middle ground between the Elmaformer and the 23 position are these units that use a metal shafted Blore Edwards rotary switch. The stereo unit measures 2.75" X 3.5" and is 3" deep. The mono version is 2" X 2.5" and 2" deep. The standard taper has the following steps: (0, -3, -6, -9, -12, -14, -16, -18, -20, -22, -24, -26, -28, -30, -32, -34, -36, -39, -42, -45, -48, -53 and Mute). Custom tapers are possible please email to discuss.
Speaker Level Autoformer Modules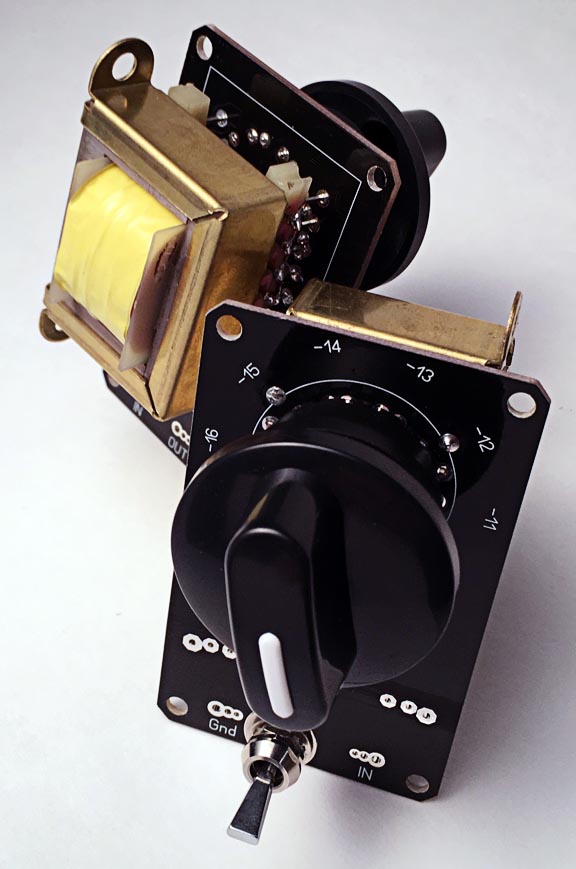 These turn-key tapped units make a perfect replacement for resistive L-pads. They allow for 20 attenuation positions in 0.5dB or 1dB steps. The 49% nickel core can handle 15V input signal at 100hz. Every doubling of frequency doubles the maximum input voltage 200hz allows 30V and 400hz allows 60V of input. The nature of an autoformer transforming the excess voltage into current drive makes this an ideal solution for matching driver efficiency. Four versions are available with different attenuation ranges and step size. The "Rshunt" calculator can be found below and you can find the full story at this link.
Price: $350 a pair.